We offer for sale vintage broadsides, prints, engravings and other ephemera of the past. Please note that many of the engravings, - taken from the Illustrated London News, Harpers Weekly and other periodicals of the nineteenth century - are over one hundred years old. These historic artifacts are a wonderful adjunct to any magic poster collection. Unless otherwise stated, all items are guaranteed as originals.

Click here to go back to main Abracagraphics page.

Listed prices do not include postage and insurance.

BANCROFT sheet music. Full portrait of B on cover. $125
BARRINGTON, FREDERICK Illustrated handbill/broadside. SWAP
[BOY MAGICIAN- TRADE CARD] f/c illustration of boy with wand and playing cards. $25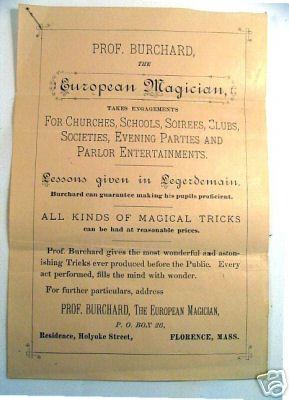 PROFESSOR BUCHARD programme, Florence, Mass., 19th century. $ 75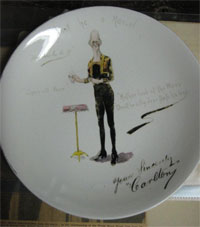 CARLTON scarce souvenir plate. $750.00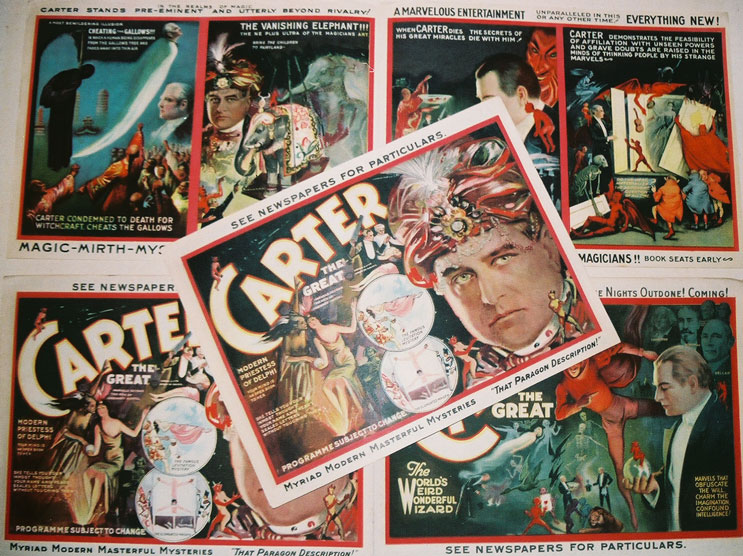 CARTER f/c brochure that reproduces his large otis posters. Spectacular art work. $25

CARTER early 15 pp. brochure and custom envelope. $45

CARTER "Personal Magnetism" by Charles J. Carter, LLB The advice in this book could change your life! Or not. $35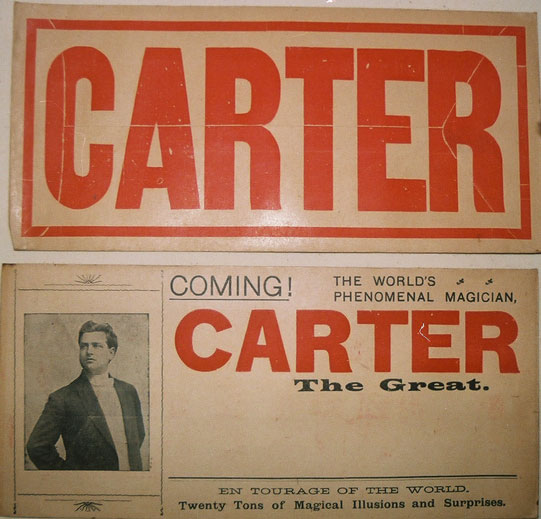 CARTER early envelope depicting b/w portrait of Charles Carter. $35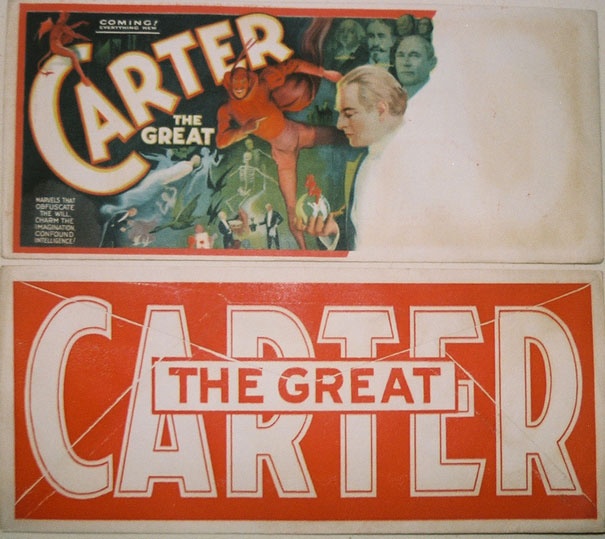 CARTER envelope with full color otis litho artwork. $20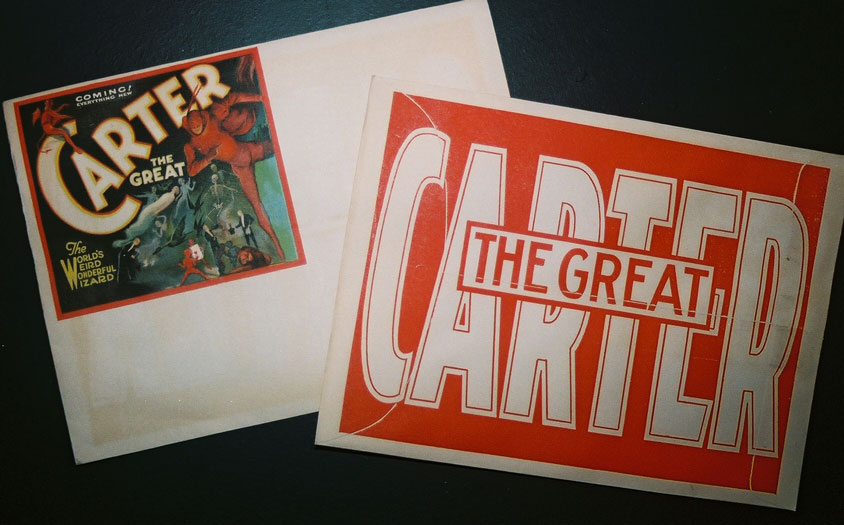 CARTER Boy, this guy liked his envelopes! $25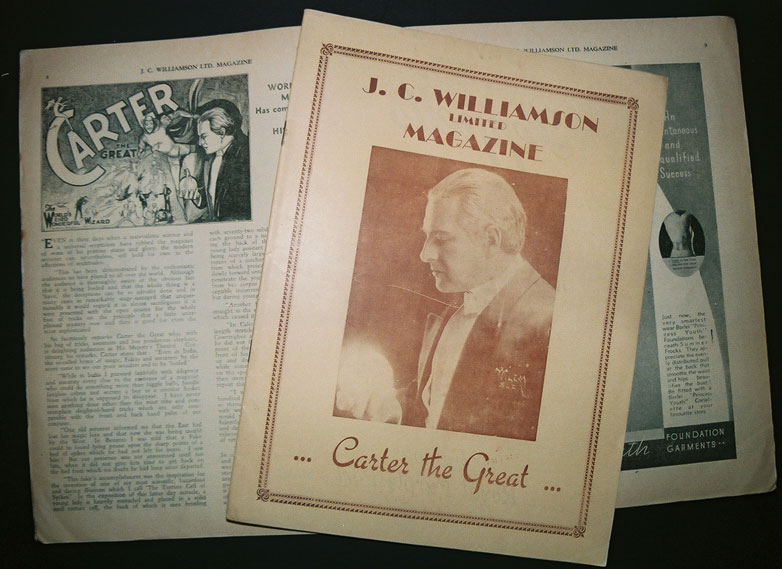 CARTER Australian magazine featuring Carter on the cover. $25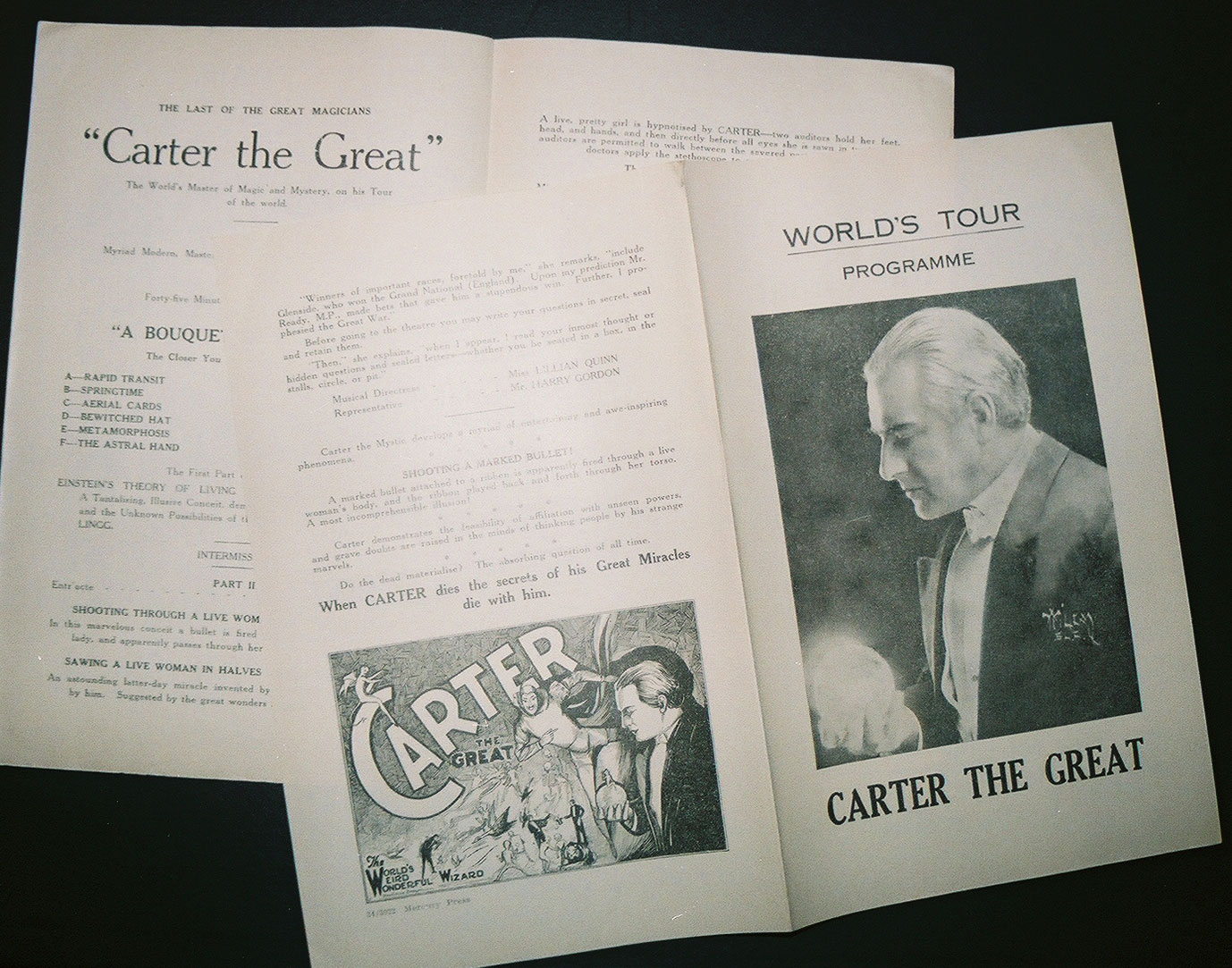 CARTER World tour programme. $15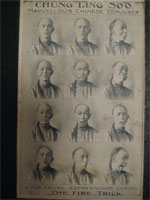 CHUNG LING SOO postcard - Expressions during the fire trick. SOLD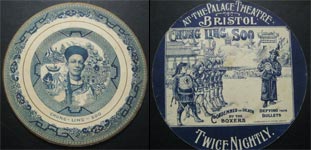 CHUNG LING SOO "plate" throw-out card. These very hard to find souvenirs were scaled out into the audience like mini-frisbees! By the way, compare the design of this "plate" to the design of the plates in the Soo plates poster that is now offered in the poster BUY section. TRADE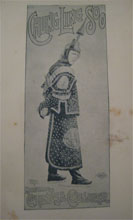 CHUNG LING SOO postcard- not postally used. SOLD

CHUNG LING SOO Pound note given out during "Dream of Wealth." SOLD
[COLGATE RIBBON DENTAL CREAM AD] "Prest-o change-o" f/c cartoonish ad. c.40's. SWAP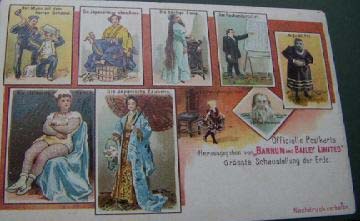 CIRCUS ACTS/FREAKS
f/c stone litho postcard Includes Japanese lady magician and lightningcalculator. 19th century. $125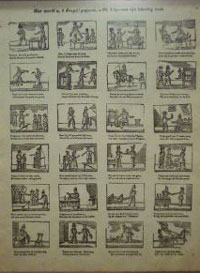 [CUPS AND BALLS] 19th century print from the Netherlands entitled, "Hier wordt u, o Jeugd." This was originally in the Milbourne Christopher collection. Swap.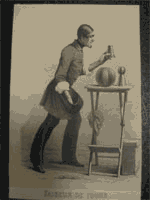 Cup and Ball Worker French, 19th century large trade card. SOLD
[CUPS AND BALLS] Prince Albert cigarette card depicting this venerable trick. $35
DANTE'S, FIFTY TRICKS audience book, D on cover. Good cond. $35
[Davenport Brothers] Collection of clippings from French newspapers. TRADE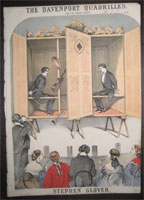 [Davenport Brothers] Extremely rare sheet music. SOLD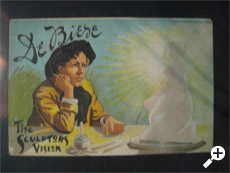 De Biere f/c "hold to light postcard" reveals image somewhat racy for the time . $125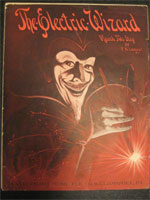 DEVIL HEAD Sheet music. $85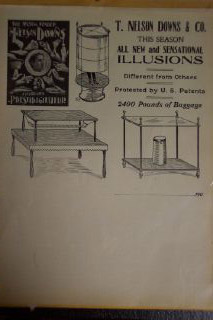 DOWNS, T. NELSON letterhead "coin poster and illusions." $125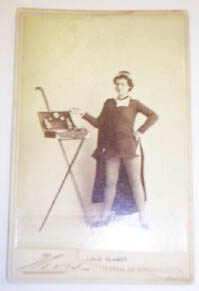 [FEMALE MAGICIAN?] GLASER, LULU cabinet photo of Ms. Glaser w/ apparatus(?). Sold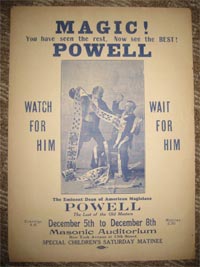 Powell Early handbill. $175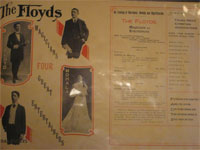 FLOYD Handbill, two sided. $45
[FORTUNE TELLING] "Madame Victoria.The Clairvoyant" Handbill. mounted. n.d. $20
GOLDIN, HORACE signed letter on ornate letterhead. SWAP
HARDEEN signed letter. SWAP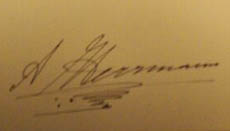 HERRMANN, ALEXANDER autograph (swap)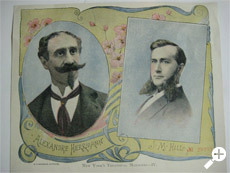 HERRMANN, ALEXANDER Souvenir hand-out, ,c. 1892. As Alexander, at the time, managed his own theatre, he is included on this full color ephemeral item as a Theatre Manager. SOLD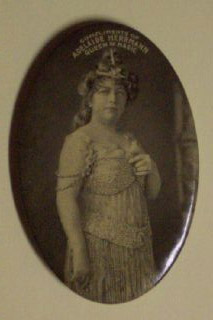 HERRMANN, ADELAIDE mirror card. This extremely scarce item is in excellent condition. $675


[HERRMAN] Cigar band - Talk about something that is ephemeral! Trade.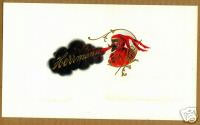 [Herrmann] Original cigar label- very rare and in great shape. SOLD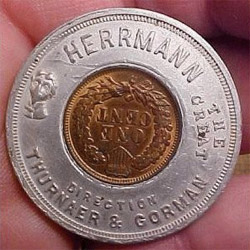 HERRMANN, LEON 1901 encased penny w/ small embossed Hermann portrait. Unusual! Traded
HERTZ, CARL Programme for Alhambra Theatre, great f/c cover. no date. SWAP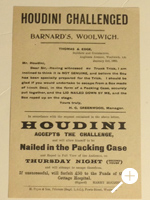 HOUDINI- 1905 packing case challenge, UK. $775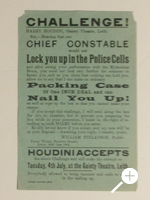 HOUDINI- 1905 packing box challenge. SOLD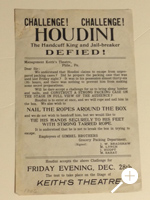 HOUDINI- 1906 challenge, Philadelphia. $750.00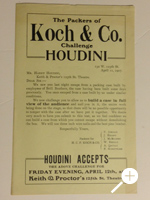 HOUDINI- 1907 packets challenge, NYC. $700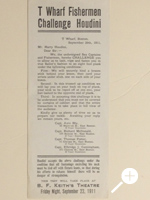 HOUDINI- 1911 Fisherman's challenge, Boston. $750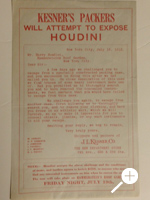 HOUDINI- 1912 challenge, NYC. $750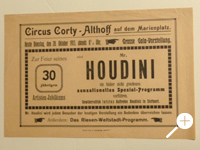 HOUDINI- handbill, 1913,Germany. $775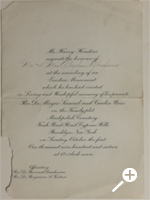 HOUDINI- 1916 invitation for dedication of Excedra at family cemetery plot. $650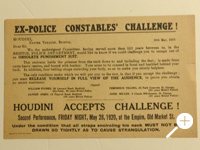 HOUDINI- 1920 challenge, UK , to escape from "obsolete punishment suit" $700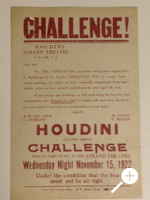 HOUDINI-1922 packing case challenge, Newark, NJ. $750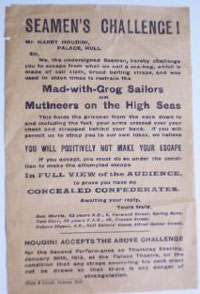 HOUDINI Fantastic challenge. Sold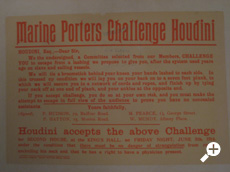 HOUDINI - 1914 Marine Porters Challenge. Sold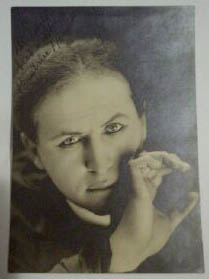 HOUDINI 5 X 7 of HH with hand in front of face. Signed in corner by Bess. SWAP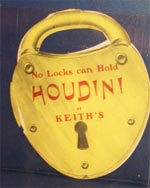 HOUDINI Cardboard padlock. Extremely scarce. SWAP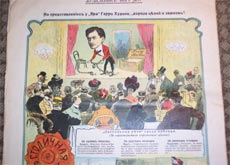 HOUDINI 1903, in Russia! Hard to find in this condition. Sold
HOUDINI 1904 front page of The Times of London. contains 2 small HH ads. Swap
HOUDINI 1906, full page from "Boston Evening Transcript" w/ small HH ad. Good condition. Sold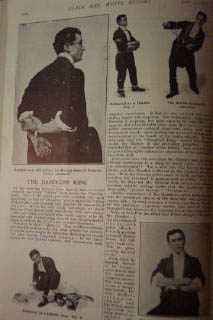 [HOUDINI] 1910 English "Budget" magazine, that includes well illustrated article on HH. Sold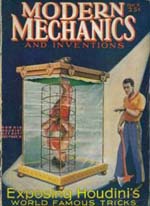 HOUDINI Modern Mechanics mag w/great full cover of Houdini escape. $85
HOUDINI 1912 Scientific American w/ photo-illustrated article on HH. SWAP.
HOUDINI 1918-1919 Hippodrome programme w/ HH portrait in large ad. SWAP
HOUDINI 1918, Ladies Home Journal article. How I escape from rope ties. SWAP.
HOUDINI 1928. The American Magazine. 1st and 4th installments of HH bio. SWAP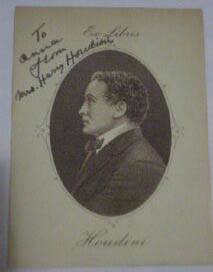 HOUDINI HH bookplate signed by Bess. Swap [Note: More Houdini under "Books" below] SWAP
HOUDINI/DUNNINGER Spiritualism Exposed (Experimenter Pub. Co 1928) F/c cover pic of HH. $125
HOUDINI, Bess signed handwritten letter. Swap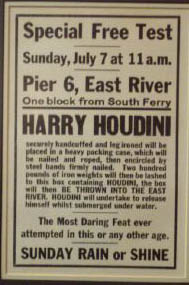 [HOUDINI] Handbill for trunk thrown into river escape. Framed. SWAP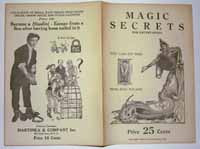 HOUDINI/ MARTINKA 1919, "Magic secrets for entertaining." This is a 1919 brochure that advertised Martinka's, when HH was President. So, it features a great photo of him in handcuffs. $75
[HOUDINI IMITATOR] 1909 Appleton, WI (!) newspaper page w/ lg illust. ad, Cunning the Jail-breaker. Great condition. $55
[HOUDINI IMITATOR] Various ephemera for Freeman the escape artist. SWAP
[HOUDINI IMITATOR] The great Mysteries "now revealed for the first time" by "Oudini." $75
[INDIAN ROPE TRICK] vintage f/c "Soapine" trade card of boy climbing rope. $35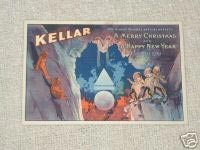 KELLAR fc Christmas card by Srobridge! Wonderful bright colors. $475
KELLAR Handwritten, signed letter. Swap.
KELLAR 1907-8 Ladies Home Journal articles, teaching tricks. $25 each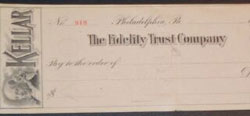 KELLAR Unused check, printed by Strobridge. $375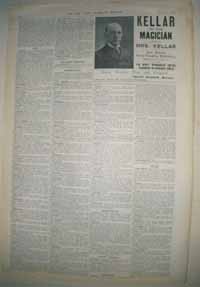 KELLAR Ad w/ portrait, New York Dramatic Mirror,3/9/1895, $65
LAFAYETTE Programme. Swap.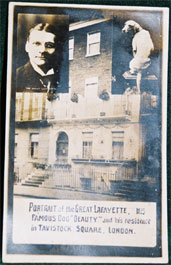 LAFAYETTE, THE GREAT (Sigmund Neuberger)- Vintage postcard. Lafayette material has become quite scarce. $475
[LETTERHEAD] Prof L. A. Grenier, the entertaining magician.devil illust. $35
[LETTERHEAD] Henry "artist - magician - entertainer. 3 color. w/ illustration of fakir. $ 35
[LETTERHEAD] John K. Snyder Magician. Great color illustrations. $35
[LETTERHEAD] letter H. Schreck to W.L.Cummings, 1928. $25

[LIGHTNING CALCULATOR] "I.Calculator Esq. The Celebrated Conjuror" (c. 19th century or earlier).From M.Christopher Collection. SWAP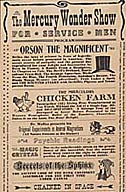 Mercury Wonder Show 1943 broadside style bill for show of Orson welles and others. Having sold at auction for $1400, this is a steal at $550. For some interesting background on this show, including great dialogue used in the show, click here.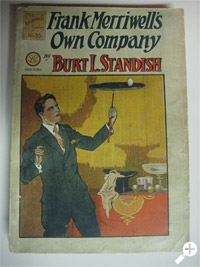 Frank Merriwel This 1898 book has a great magic and juggling cover. Sold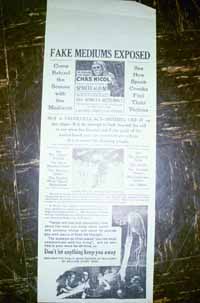 NICOL Spirits broadside. $125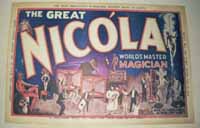 NICOLA handbill, 3 col. $275

NICOLA Programme - Black cover, quite uncommon. $75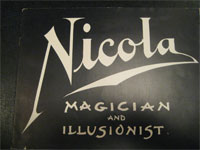 NICOLA Programme - Red and black, $ 65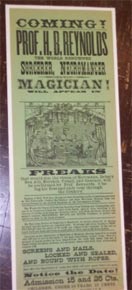 PROFESSOR REYNOLDS Broadside, L. $450
PUZZLE CARDS Several versions of find-the-object postcards. $10 ea.
SAWING A LADY IN HALF (Sheet Music) SWAP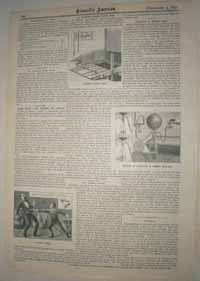 SCIENTIFIC AMERICAN EXPOSES Several from 19th century.$35/ea.
STEREOVIEW CARD Comedy juggler/magician. Turn of century vintage. $75
TAMPA,"England's Court Magician" Assorted ephemera available for trade.

[Theatrical cabinet photos] 10 turn of the century thespians. Not a magician in the lot! $150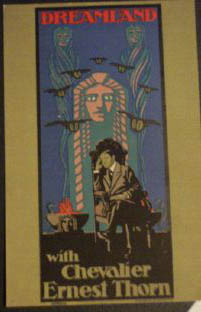 THORN Chevalier Ernest- Original f/c postcard. $75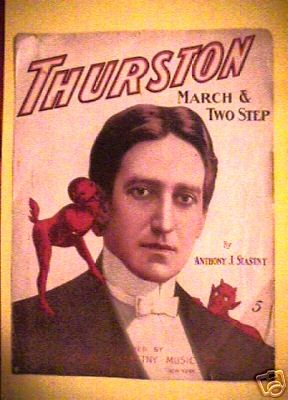 THURSTON sheet music. Some small tears. $275
THURSTON Signed letter on his early Strobridge letterhead. These are hard to find. Swap.
THURSTON good luck coins for 1928 & 1929. SWAP
THURSTON original clippings scrapbook from Heaney collection. SWAP
THURSTON letter in his hand to Jane Thurston. Swap.
THURSTON telegram-like "day letter" 1914. Good cond. $450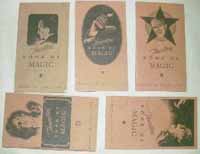 THURSTON'S BOOK OF MAGIC Swift & Co. Vol 1-5. $75
THURSTON Narrow programme from Ford's Theatre. $125
THURSTON THROW-OUT CARD T. and Jane c.1925? Good cond. All over ebay at more than $15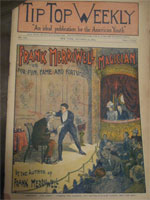 TIP TOP WEEKLY 1878 Dime Novel. "Frank Merriwell, Magician" $85
[VAUDEVILLE BILL] 1912 1 pg. Programme for Poli's Theatre, w/ juggler and illusionist on bill. $20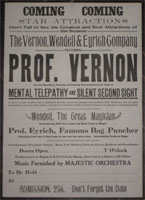 VERNON

, Professor - Broadside, 1920-1930's. $45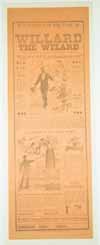 WILLARD THE WIZARD broadside w/ 4 engrav.L. $ 65
WILLARD THE WIZARD Large herald w/ illustrations. SWAP
WIZARD Cigar Label excellent f/c lithography. $45

MAGIC SETS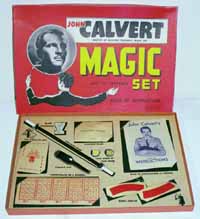 JOHN CALVERT MAGIC SET Some minor damage to lid edge, but o/w good & complete. $150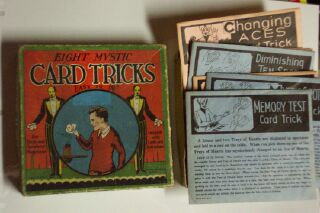 8 MYSTIC CARD TRICKS colorful box $100
GILBERT PUZZLE SET In nice, vintage box. Have 2 types. swap.
KRESKIN ESP GAME Complete, overall, Good cond. $20
MICKEY MOUSE MAGICIAN Big plastic MM. Missing small pieces. $75
MYSTO MAGIC SET #1 c. 1938. in decent shape. $300
MYSTO MAGIC SET #2 also decent shape. some dings on box. $300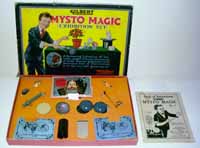 MYSTO MAGIC SET # 2001 smaller box; complete; good shape. Swap.
MYSTO CARD TRICKS SET Terrific box w/ devil illustration on cards. SOLD
PETER RABBIT MAGIC SET Good condition. but not complete. $65



Magic set. An iconic 1950's set. Complete. $175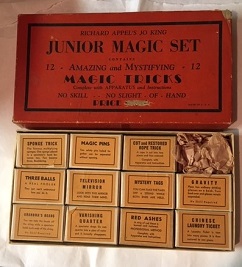 Junior magic set. Complete. $125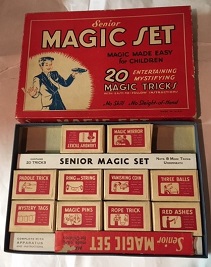 Senior magic set. 1950's complete. $135

BOOKS & Magazines (all books are hard cover unless o/w indicated)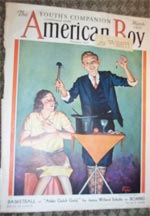 American Boy magazine cover SOLD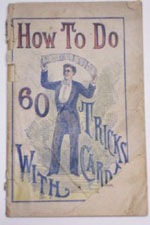 ANDERSON, A. "60 Tricks with cards" (Tousey pub., 1900). SOLD
ANON. The Fireside Magician, (Dick & Fitzgerald, 1870) wraps. SWAP
Fun, magic and mystery (Wehman Bros, n.d.) wraps.2 color cover. $30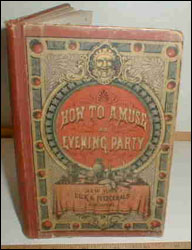 How to Amuse an Evening Party,(Dick & Fitzgerald. 1869) $200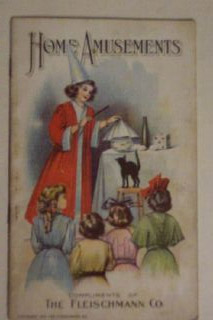 Home Amusements[Fleischman's Yeast] 1910 promo booklet w/ beautiful f/c cover. C. 1890's. Featured in Jim Hagy's recent article in MAGIC on old super market give-aways. $55
BLACKSTONE Modern Card Tricks & Secrets of Magic,(NY, 1941) $18
BLACKSTONE "Blackstone's Sectrets" SC audience book. Great 3 color cover. $35
CARRINGTON Little Blue Book, Side show tricks explained, $20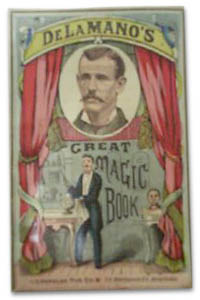 DELAMANO Audience book w/ hand tinted cover. mint. 1800's. $100
DUNNINGER 100 Houdini Tricks, (Arco, 1954). $12
DUNNINGER'S MAGIC FOR EVERYONE (Saalfield 1940?) coloring book.Great f/c covers. $25
Another. Fair condition. $15
ELLIOTT, BRUCE Magic as a Hobby,(1948). $15
GIBSON, WALTER B. Houdini's Escapes & Magic (1st ed. 1930) $30
GIBSON & YOUNG Houdini's Fabulous Magic, (1975)HC, ex-library $18
GOLDSTON Tricks of the Masters, (McKay, Phil, 1942) DJ $45
GOLDSTON Magician'S Annual, 1909-1910. $100
HERNANDEZ New Book of Parlor Tricks and Magic, wraps. (Ottenheimer, Balto,1912). $30
HOFFMAN, PROFESSOR Modern Magic, (McKay, Phil.). $55
More Magic, (Mckay, Phil.) $40
HOPKINS,ALBERT MAGIC, Stage Illusions and Scientific Diversions, HC, (NY, 1897) Some pp missing- o/w in good shape. $65
HOUDINI Big Little Book. Amoco or Cocomalt ed.(1927). $45

HOUDINI Magical Rope Ties and Escapes,(British ed.) Boards. Fair Sold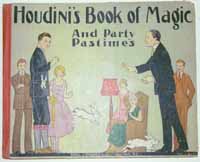 HOUDINI Houdini's Tricks and Party Pastimes. Boards(1927) $125
HUGARD a bunch of his card magic pamphlets. The lot, $25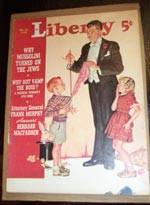 Liberty magazine cover $35
LINDHORST, WILL Dick Daring's Bag of Tricks.(Chicago, 1933) wraps $25
Tricks and Magic, (Chicago, 1924), $12
THE MAGICIAN'S WEEKLY, #1 6 (1925) a COMPLETE RUN.Yep,only 6! SWAP
[Magazines,misc] "The Better Magzn"May,1909 & Holmes"magcl notes"v3#7. $15
MENTOR MAGAZINE Jan 1927. Has great articles on the history of magic.$25
MILBURN, George A Handbook for Amateur Magicians, (Little Blue Book No. 1010, Haldeman Julius Co. 1926)wraps. $18
PROF. RAYMOND Parlor Pastimes or the whole art of amusing, (c. 1875, Hurst & Co.) bears Clinton Burgess and Jimmy Findlay bookplates. Colored cover. Wraps. Fair. $85
SMITH, H. ADRIAN Books at Brown, some of his articles on magic books. Perfect bound, SC.$30
SPHINX & HUGARDS Assorted issues of these magazines. What are your needs?
SQUIER, EDWARD SUMMERS Tricks and Magic Made Easy (NY,1919) $15
SVENGARRO Prof. Wizard's Manual, (Ottenheimer, Balt. N.D.)wraps. $15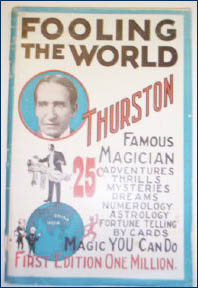 THURSTON Fooling the World, audience book. $37; 400 Tricks You Can Do, (Blue Ribbon, 3rd ed. 1940)DJ. $20
Thurston's Dream Book, N.D., wraps, audience book. $25 Fifty New Card Tricks, (Wehman Bros.,1905) wraps. SOLD
200 More tricks you can do, (Sully & Co., 1927) HC. $25; Easy Pocket Tricks,7th ed. audience book. $35
VICTOR Further Magic of the Hands, (2nd ed., 1942) wraps. $18